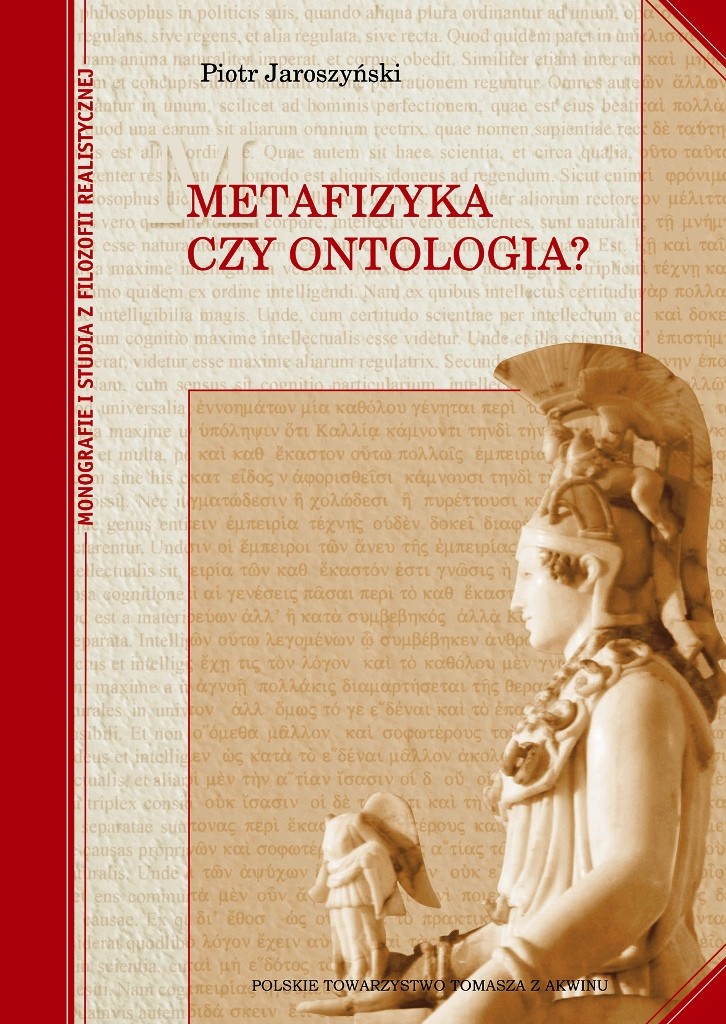 Piotr Jaroszynski
Metaphysics or ontology?

Polskie Towarzystwo Tomasza z Akwinu

Lublin 2011


Summary

Metaphysics or ontology? Answering this question is crucial for an understanding of Western philosophy. The question is an occasion to examine how the subject of metaphysics has been judged and developed within different currents of philosophy. Why does the question elicit diverse answers? Why have some schools of thought judged that the very name of metaphysics is inadequate? Metaphysics generates a host of controversies. Besides determining just what is the the object of metaphysics, the philosopher must confront other key questions:
(1) What about the origin and significance of the name "metaphysics''?
(2) What does it mean to say that metaphysics studies being as being.
(3) How does the intellect understand an object as object? (4) How does the intellect grasp being as a notion? While philosophers have divergent answers to these questions, the history of philosophy reveals that they regard them as important. Their attention to these questions shows that the history of philosophy manifests certain stages toward distinguishing metaphysics from ontology.
Expressis verbis the problem of a difference between metaphysics and ontology did not exist either in ancient times or in the Middle Ages. It could not exist up to the first half of the first century bc, because both names were missing. While the name "metaphysics" appeared in the first century bc, the term "ontology" was not invented until the seventeenth century. Curiously, once the names became established in philosophical discourse, they were, as a rule, used interchangeably or complementarity, rather than in an opposing manner. Only in the twentieth century debates about philosophy were held with reference to those names as expressing different approaches to the object of philosophy, or even with appreciating ontology as the most important area of philosophy, and penalizing metaphysics by modifying, deconstructing, or erasing it from history.