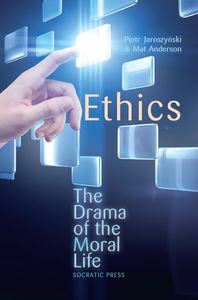 Ethics Course Free To Enrolled Students

(uses text read and blessed

by Blessed John Paul II)
We are happy to announce that the Angelicum Academy has participated in the publication of a very important book, ETHICS : The Drama of the Moral Life by Profs. Poitr Jaroszynski and Mathew Anderson.
Not everyone is of the same religion, yet all need an ethical code to regulate their behavior and to live in a civil society. What then? Classical ethics, as presented in this book, comes from natural reason and shows the rational foundations for human actions, for all people, religious, agnostics, even atheists. Yet informed religious people recognize the critical importance of natural ethics. In fact, this particular book, read by Blessed Pope John Paul II in 1997, was given his personal blessing.
We are privileged to offer this book as a part of our high school course of studies at the Angelicum Academy. We recommend it for any student grades 8-12 and up. The book is 145 pages and while the subject is important the reading is relatively easy. Parents and students alike will find it enlightening and helpful as they face many decisions of everyday life with a renewed sense of the importance of choosing the good.
The book may be purchased in the Angelicum bookstore. Enrolled students may submit their answers to the 68 Study and Reflection Questions found throughout the book for grading by the Academy based on answer keys prepared specifically for the Angelicum Academy by the authors, as part of their enrollment tuition for any grade 8 through 12, and, if desired, for inclusion on their transcript. This can give parents a good guide to determine if their students studied and understood their study of ethics.

Link:
http://angelicum.net/curriculum-2/ethics-course-free-to-enrolled-students/